Important Dates
March 19, 2020 - Final Pitch Competition
5:30 - 7:30 pm, WSU Law School Spencer M. Partrich Auditorium
As Wayne State University's 2019-2020 STEAM Challenge concludes its 6-month competition, challenge organizers welcome four expert judges who will determine the top three teams and winner of this university-wide competition. The judges will be responsible for evaluating proposals on how well each student team addressed this year's STEAM Challenge theme of "Innovating Change and Developing Solutions Toward a Just Society." 
Organized by the Wayne State School of Social Work and the Mike Ilitch School of Business, this event provides an opportunity for the top six interdisciplinary student teams to pitch their social entrepreneurial ideas. The competition will conclude at this public event with the panel of judges determining the top three teams who will split $25,000 in cash prizes to launch their social ventures and improve the lives of Detroiters. This event includes a reception with light refreshments. It is open to the public and more information is available at steamchallenge.wayne.edu.
Judging Panel:
Shannon Smith, JPMorgan Chase & Co.
Erin Bonahoom, Canvas Legal PLC
Romy Kochan, GINGRAS GLOBAL
Rishi Moudgil, GreenLight Fund
Final Six Teams:
Bee Plus
Creative Collective
Detroit Airnet
JAYDA
Not Alone
Reroot Detroit
Previous STEAM Events 
As students, we know how busy you are. All events and workshops are optional. If you would like to connect with your fellow competitor and hear from local experts, please attend! If you can't make it, however, you will not be penalized. If we do not see you at an event but you still want to participate, contact us at STEAMchallenge@wayne.edu and we'll add you to our email list of interested students so we can help connect you to other students or STEAM Challenge Champions.
October 29, 2019 — STEAM Challenge Kickoff – Design Thinking for Social Ventures
3 – 5 pm,  WSU Student Center, Room 285 - Refreshments will be provided.
Registration requested but not required.

At this event STEAM Challenge Lead, Marijo Upshaw, will discuss the STEAM Challenge and how students will be guided through this competition using the principles of business and entrepreneurship to solve pressing social challenges facing area Detroiters. To help participants start the process of developing an idea, attendees will engage in an experiential learning workshop with a local design thinking expert, Sarah Gallimore, Senior Design Strategist of the Innovation Team at the City of Detroit. In this workshop, participants will learn how to think differently about some of the world's most complex problems by exploring the basics of the design thinking process: learn, design, test, evaluate. Students will gain a greater understanding of the consumer they hope to target, what to make or do next, why it's important and how to communicate their ideas. Refreshments will be served.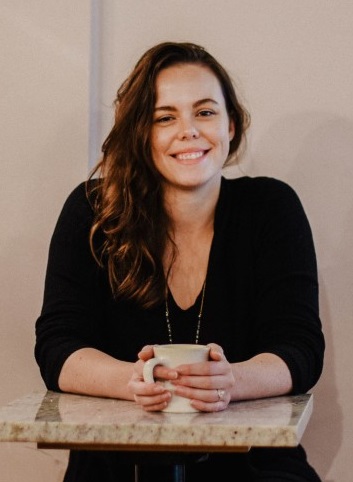 Sarah (left) is the Sr. Design Strategist within the Mayor's Office for the City of Detroit. After nearly a decade in the commercial/corporate design world, Sarah transitioned to local government two years ago with a brief stint with the City of Durham's Innovation Team before transitioning back to Detroit where her and her partner have lived for more than 5 years. A lateral thinker and committed learner - she thrives at the intersection of design thinking and business strategy - helping people deeply understand the people they serve, how to figure out what to make or do next, why it's important and how to communicate that - innovating contextually through social research.
November 15, 2019 — Social Justice Mixer (PDF Flyer)
1:00 – 3:30 pm, WSU Student Center, Lower Level Stage

The purpose of the Social Justice Mixer is to help STEAM participants better understand the context of the social problems and to apply a social justice lens to the challenges they seek to address through social entrepreneurship. The event will start out with subject-matter experts who will provide a brief overview of this year's Challenge themes. Panelists include:
Following their overviews, student participants will be able to set the agenda for the rest of the event through an Open Space Technology (OST) format. The OST platform will allow student participants to begin discussing the challenges they want to address and to connect with other students across disciplines who might frame the challenges or have lived experience with the problems. At the end of the mixer, we will conduct a debrief and connect student participants with additional STEAM Challenge resources. 
November 22, 2019 - Drop-In Friday
10 am - 2 pm
STEAM Challenge leaders will be available for participants to swing by and receive mentorship and advice on their proposals. These will be walk-in sessions held simultaneously at two locations on campus.
Mike Ilitch School of Business, lobby with Jerome Gibbs and Frank Goeddeke
UGL Blackstone Hub Room (left of the front door) with Marijo Upshaw and Gary Shields
December 4, 2019 - A Conversation with a Detroit Entrepreneur (PDF PowerPoint Presentation)
12:00 - 1:30 pm, I2C Innovation Studio located at the WSU Industry Innovation Center


This event will include an interactive presentation with Detroit based social entrepreneur, Diana Roginson (left) a Wayne State alumnus who graduated with a degree in fashion merchandising and co-founded Rebel Nell. Rebel Nell is a social enterprise that makes designer jewelry items from the fallen graffiti of Detroit buildings and employs women experiencing homelessness. Attendees will hear how Diana launched Rebel Nell, the highs, the lows and everything in between! We will even be hosting a raffle for a lucky few attendees to walk away with their own piece from Rebel Nell! 
We request that your RSVP for this event to ensure we have plenty of FREE food for attendees! RSVP
 In her final year of studies at Wayne State, Diana began her career at Nordstrom as a Department Manager. During her 13 years of employment with Nordstrom, Diana led such in-house initiatives such as the launching a pop-up program featuring local businesses at the Somerset location. In 2013, she and business partner Amy Peterson developed Rebel Nell in their respective apartments, eventually culminating in its debut at the Detroit arts and culture event Dally in the Alley. With six years of Operating Rebel Nell behind her, Diana moved to the organization full-time as COO of both Rebel Nell and T.E.A., the nonprofit arm of the Rebel Nell. Recipient of the EY Entrepreneur of the year award, Diana and Rebel Nell have been featured on NBC Nightly news, Huffington Post, New York Times, and numerous local and regional media outlets. 
The I2C Innovation Studio, lead by entrepreneur-in-residence, Jenifer Daniels (left), is a resource for students to receive business development advice, coaching, and technical assistance. The event will include a brief discussion of the services and tour of space available at the Innovation Studio.
Additionally, the event will provide a space for established STEAM Challenge teams to recruit additional members if needed.
For parking information (you can take the WSU Shuttle too!) visit the WSU Innovation Studio homepage. The WSU Innovation Studio is next to Tech Town and around the corner from iBio.
 
Wednesday, January 8, 2020 - STEP 1: REGISTRATION DEADLINE

December 13, 2019 - Drop-In Friday
10 am - 2 pm
STEAM Challenge leaders will be available for participants to swing by and receive mentorship and advice on their proposals. These will be walk-in sessions held simultaneously at two locations on campus.
Mike Ilitch School of Business, lobby with Jerome Gibbs and Frank Goeddeke
UGL Blackstone Hub Room (left of the front door) with Marijo Upshaw and Gary Shields
Venture Development Lunch & Learns
12:00 - 1:30 pm
Developing a sustainable venture requires planning especially for social impact ventures in which the degree of risk and uncertainties can be greater than with traditional commercial businesses. New models of lean experimentation and business planning can help nascent social entrepreneurs develop a viable social venture model. Teams will be encouraged to participate in a series of four lunch and learn workshops lead by local experts around venture feasibility planning and development with relevant and just-in-time information to help your team plan your social impact project.
All workshops are free-of-charge and include lunch. Please RSVP for the workshops in advance. Registered STEAM Challenge team participants will be given priority seating at the workshops.
January 17, 2020 - Developing a Business Model Canvas at the WSU Student Center Hilberry E with Christine Sims from the Build Institute, an organization that helps people turn their business ideas into reality by providing them with the necessary tools, resources, and support network in Detroit. RSVP required.
January 24, 2020 - Assessing Community Needs and Developing a Theory of Change at the WSU Student Center Hilberry E with Joanne Sobeck, PhD, WSU School of Social Work Associate Dean of Research and Director of the WSU Center for Social Work Research. RSVP required.
January 31, 2020 - Conducting a Competitive Landscape and Market Analysis at the WSU Student Center Hilberry A presented by Jenifer Daniels, MA, APR, Director of the WSU Innovation Studio. RSVP Required.
February 7, 2020 - Formulating and Delivering an Effective Pitch at the WSU Student Center Hilberry D by Gary Shields, Lecturer, Management and Information Systems in the WSU Mike Ilitch School of Business. RSVP Required.

Monday, February 17, 2020 - STEP 2: PROPOSAL DEADLINE
Can't make an event? Need resources? Have questions? We're here to help!
Contact 313-577-9348 or STEAMchallenge@wayne.edu